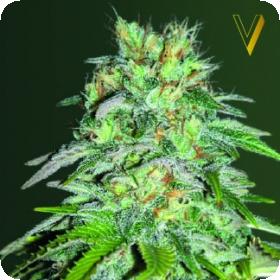 Parmesan by Victory Seeds is a combination of Skunk and Kush, originally created in the UK. This strain is extremely potent, powerful and musky with an intense flavour and scent.
The flavour is a combination of earth and cheese, the scent is powerful so the plants may need to be properly ventilated during flowering. This strain has an amazing THC content of 24%, the effect is an extremely powerful full body stone with amazing bursts of mental energy. 
This strain is feminised and is ideal for growers, especially if they don't plan on breeding their own crops. For these growers the male plants are a total nuisance and can cause issues during the flowering period.
This means they have to be removed, and since males take up around half of a regular crop, this is a huge waste of time and money. Feminised seeds also tend to be higher in quality and uniformity than regular seeds.
For this reason some breeders also prefer to use them, even though feminised breeding is extremely difficult. Feminised seeds are photo period and will require a light cycle in order to flower. 
This strain has a flowering time of 8 – 9 weeks and can be grown indoors or outdoors. 
Remember that the cultivation of cannabis seeds is illegal in some countries, please check the laws of your country before attempting to cultivate cannabis seeds.