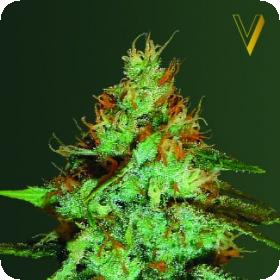 Original Limonade Skunk Feminised Seeds
This strain is well known for its amazing resin production and incredible symmetry. It will produce the perfect amount of resin, a decent quantity but not too much.
This strain is also perfectly balanced in its effect, a combination of sativa and indica. It is both happy and relaxing, uplifting and soft. It has a deliciously fresh and lemony scent and flavour.
As far as growing goes this strain is a little sensitive to over feeding and it is the preferred treat for spider mites.
Original Limonade Skunk is a feminised strain, making it ideal for growers. Most growers have no need for the male plants, and they can harm the females during the flowering process. For this reason they have to be removed, which wastes around half of the plants in a regular crop.
Feminised seeds can save a lot of time, money and energy that would otherwise be wasted. Feminised seeds also tend to be higher in quality and uniformity than regular seeds. For this reason some breeders also prefer to use them, even though feminised breeding is quite difficult.
Feminised seeds are photoperiod and will require a light cycle in order to flower.
This strain has a flowering time of 7 – 8 weeks and can be grown indoors or outdoors.
Remember that the cultivation of cannabis seeds is illegal in some countries, please check the laws of your country before attempting to cultivate cannabis seeds.