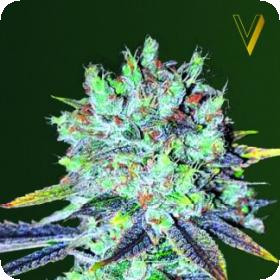 Original Berry Feminised Seeds
This strain is indica dominant, 80% indica and 20% sativa, and has existed since the 70s. This strain is popular due to its impressive yield and amazing colouring. The plants and buds will be a mixture of red, blue and purple, curing eventually to lavender.
The end result is an extremely aromatic and fruity strain that tastes of fresh blueberry. The high is euphoric and soft with a strong relaxation that stays in the body. There is a good reason for this strain having lasted as long as it has.
Original Berry is a feminised strain, making it ideal for growers. Feminised seeds can save growers a lot of time, money and energy that would be wasted on the male seeds. Males can harm the females during the flowering process and have to be removed.
If they are not being used for their pollen they are just thrown away, wasting around half the seeds in the crop. Feminised seeds also tend to be higher in quality and uniformity than regular seeds.
For this reason some breeders also prefer to use them, even though feminised breeding is very difficult. Feminised seeds are also photoperiod and will need a light cycle in order to flower.
This strain has a flowering time of 8 – 10 weeks and can be grown indoors and outdoors.
Remember that the cultivation of cannabis seeds is illegal in some countries, please check the laws of your country before attempting to cultivate cannabis seeds.