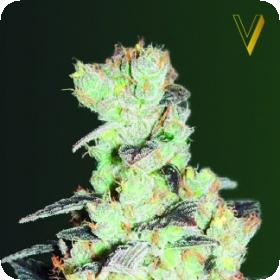 NHL Diesel Feminised Seeds
NHL Diesel is an amazing cross of Mexican Sativa and Afghani. The scent is amazing, a powerful smell of ripe red grapefruits. The buds are enormous and dense, the scent so powerful that it will transfer to anything they touch.
This strain also has an amazing exotic flavour the goes with the mouth watering smell. The THC content is around 20% which makes the effect pretty powerful. Since it is a sativa strain the effect is usually uplifting and happy.
This strain is feminised and will only grow into female plants. Feminised seeds are ideal for growers who don't plan on breeding their own seeds. For these growers the male plants are a total nuisance and can harm the females during the flowering period.
This means that they have to be thrown away, and since around half of a regular crop is male, this is a huge waste of time and money. Feminised seeds also tend to be higher in quality and uniformity than regular seeds.
Which means some breeders also prefer to use them, despite the increased difficulty of feminised breeding. Feminised seeds are also photoperiod and will require a light cycle in order to flower.
This strain has a flowering time of 9 – 11 weeks and can be grown indoors or outdoors.
Remember that the cultivation of cannabis seeds is illegal in some countries, please check the laws of your country before attempting to cultivate cannabis seeds.