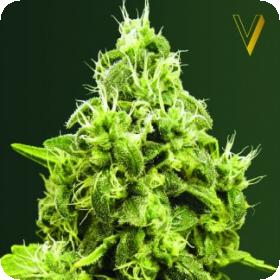 Jack Hammer Feminised Seeds
This strain has won a number of awards and is thought to be one of the finest strains on the market. Jack Hammer is the result of years and years of breeding and special selection.
The result is a high yielding strain with large, dense buds that are completely coated in resin. The scent and flavour are a mix of pepper and fruit with a touch of Skunk. The effect of the strain is extremely cerebral and uplifting, almost guaranteed to set off a fit of the giggles.
This strain is unlike any other and definitely provides the grower with a real treat.
Jack Hammer is feminised and will only grow into female plants. Feminised seeds also need a light cycle in order to flower. Most growers prefer to use feminised seeds because it means they don't have to deal with the male plants.
The males take up around half of a regular crop and have to be removed before they harm the female plants. This is not only a massive waste of money but also a waste of time and space. Feminised seeds also tend to be higher in quality and uniformity than regular seeds.
For this reason some breeders also prefer to use feminised seeds. However, feminised breeding is not easy and should only be attempted by experienced growers.
This strain has a flowering time of 8 – 10 weeks and can be grown indoors and outdoors.
Remember that the cultivation of cannabis seeds is illegal in some countries, please check the laws of your country before attempting to cultivate cannabis seeds.
Genetics:
Skunk #1 x Northern Lights #5 x Haze