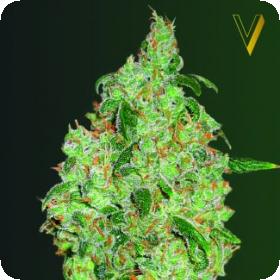 Green Wild Shark Feminised Seeds
Green Wild Shark is a high yielding strain that is stable, long-lasting and powerful. The effect is a comfortable and relaxing bodily stone that is ideal for a lazy Sunday watching films on the couch.
This strain also produces a huge amount of resin, to the point where the buds' area almost literally dripping with resin. It has a tangy and mouth watering flavour that lasts and lasts.
This strain is feminised and will only grow into female plants. Feminised seeds are also photo period and will require a light cycle in order to flower. Feminised seeds are ideal for growers who don't plan on breeding their own crops.
For these growers the male plants can cause a lot of issues in the crop by harming the female plants. This means they have to be removed before the flowering period.
This is a huge waste of time, money and energy that would be better used on the female plants. Feminised seeds also tend to be higher in quality and uniformity than regular seeds.
This strain has a flowering time of 7 – 9 weeks and can be grown indoors or outdoors.
Remember that the cultivation of cannabis seeds is illegal in some countries, please check the laws of your country before attempting to cultivate cannabis seeds.