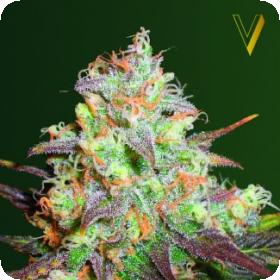 Chocodope Feminised Seeds
Chocodope is a fantastic sativa strain that grows to an impressive height and will quickly dominate a garden. This strain is well known for its amazing flavour which starts off with a hint of fruit and an aftertaste of chocolate.
This strain is an award winner and produces massive yields of top quality buds with an incredible taste and an astonishing high. This strain has a THC content of 19% and, due to being a sativa, has an uplifting and euphoric effect that will perk up even the darkest days.
This strain is feminised and will only grow into female plants. Feminised seeds are ideal for growers who don't plan on breeding their own crops. For these growers the male plants are a nuisance and can damage the females during the flowering process.
This means that they have to be removed and, since males will take up around half of a regular crop, this is a massive waste of time, money and energy. Feminised seeds tend to be higher in quality and uniformity than regular seeds. For this reason some breeders also prefer to use them, even though feminised breeding is extremely difficult.
This strain has a flowering time of 9 – 10 weeks and can be grown indoors or outdoors.
Remember that the cultivation of cannabis seeds is illegal in some countries, please check the laws of your country before attempting to cultivate cannabis seeds.
Genetics:
O.G. Chocolate Thai X Cannalope Haze