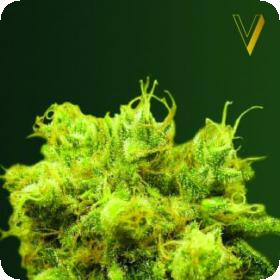 Blow Dream Feminised Seeds
Blow Dream, a combination of Blueberry and Haze, is one of the favourite strains in California at the moment. Actually it is in the top 10! This strain is delicious with a flavour that combines sugar, tangy lemon and earth with a fantastic scent to match.
The plants are vigorous growers and will grow to be quite wide. This makes them perfect for commercial growing, as they will also produce impressive yields.
The effect is extremely powerful with a little bit of a sativa buzz, perfect for lazy afternoons with friends.
This strain is feminised and will only grow into female plants. This is perfect for growers who don't plan on breeding their own crops.
For these growers the male plants, who take up around half of a regular crop, are a nuisance and a danger to the female plants. This means they have to be removed, which is a huge waste of time and money.
Feminised seeds also tend to be higher in quality and uniformity than regular seeds. This means that some breeders also prefer to use them. However feminised breeding is extremely difficult and should only be attempted by experienced breeders.
This strain has a flowering time of 9 weeks and can be grown indoors or outdoors.
Remember that the cultivation of cannabis seeds is illegal in some countries, please check the laws of your country before attempting to cultivate cannabis seeds.