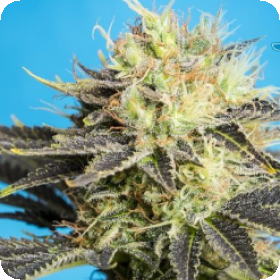 Dandy Dance CBD Feminised Seeds
Dandy Dance is a cannabis strain that is predominantly Indica, CBD-rich with a moreish taste and a powerful effect. Dandy Dance was created by crossing the cut of the Lavender Baron Dandy with the Mapetit Dancehall.
It is a strain that grows quickly and uniformly and is easy to grow, making it ideal for novice growers.
It develops a strong main stem during its vegetative phase, surrounded by a prodigious amount of side branching that produces elongated colas during the flowering period that takes 60-70 days.
Dandy Dance develops a profusion of resin glands that cover compact, rocky buds, although yields are merely average.
A blend of curry, orange and lavender notes together with musky/skunky undertones is the aroma and flavour. Before becoming more relaxing after a while, its effect is quite intense, initially energetic.
It is ideal for relaxing and chilling out, and good for relieving painful muscles while maintaining a clear head.
Dandy Dance produces extremely tasty concentrations of hashish.
Genetics:
Lavender Baron Dandy cut x Dancehall Mapetit