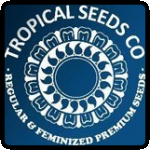 When it comes to quality cannabis seeds, where the parent plants are grown is every bit as important as how they are grown. The growing conditions can have a huge impact on the stability and quality of the genetics that the seeds possess. This is why some breeders' products are more sought after than others and it is why so many breeders scour the globe searching for specimens with particular attributes.
A relatively new player in the cannabis cultivation market, Tropical Seeds has positioned themselves as a fully-functional breeder with an initial offering of a variety of strains that are both of impressive quality and are also unique. All of their cultivation projects take place in greenhouse and outdoor environments. That is not to say that their seeds will not grow indoors, but it does speak to their commitment to giving nature the upper hand in the development of their products. Yes, their plants will grow indoors, but they will generally require plenty of space. Tropical Seeds has a particular affection for big, majestic sativas and and branchy indicas, and they grow their plants under conditions that allow them to stretch and produce as much as possible.
Tropical Seeds is aptly named as their entire operation is situated in a sub-tropical climate, approximately 28 degrees North Latitude with a predominantly dry weather conditions, loads of sunshine and a steady average year-round temperature of 22º C. Aside from the obvious advantages of using all-natural growing methods, growing in such an ideal location also provides the opportunity to harvest several times per year - three times on average for sativa plants. This drastically reduces the normal timespan between replenishments making their seeds more accessible than average.
As part of their efforts to balance quantity with quality, Tropical Seeds brings their initial varieties to market with relatively low photoperiods, especially for dominant sativa hybrids. They also offer seeds with longer more sativa-like flowering periods that reward with abundant, high-quality yields. They also bring to the table a few indica-dominant varieties in their effort to satisfy the demands of those who prefer indica effects over those of the typical sativa. A great deal of effort has gone into preserving the pure strains with which they work and the reward for that effort is obvious in the quality of their seed products.