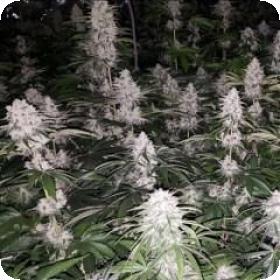 Spumoni is one of the best cannabis strains available in seed form. It is the result of a collaboration between two of the best seed banks in the world.
The USA's Alien Labs and the European Plug. Spumoni is a cross between Do-Si-Dos and Sherbet.
Dense, colourful and tasty buds are the grower's reward for Spumoni, winner of the High Times Cannabis Cup 2018. It produces a plethora of branches, all loaded with heavy buds of medium green colour and decorated with purple patches.
It is ideally suited for indoor cultivation where it takes 70 days to complete the flowering phase.
The buds are extremely pungent and funky-smelling with diesel and sweet notes that complement the gamma of organoleptic qualities.
Its effect is very potent and gives rise to an uplifting sense of happiness, while at the same time being relaxing and eventually quite sleep-inducing.