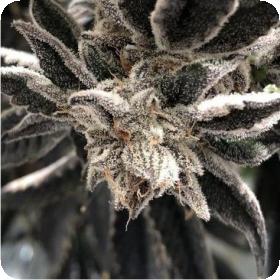 Punch The Cake Feminised Seeds
Punch the Cake is a mostly indicative cross between the Wedding Cake and the Purple Punch. It is a high-yielding strain, which is also a high resin-producing plant.
Punch the Cake can be grown both indoors and outdoors. It has a very solid structure with a small number of side branches, although it responds very well to both SCRoG and LST (low stress training) techniques to maximise yields.
Flowering takes 10 weeks indoors and yields between 500-550 gr/m2 are very good.
The buds are really dense, turning into a vivid purple, and displaying a huge amount of trichomes that make it a popular choice for those who are interested in extract making.
Its taste is creamy and sweet, and its very high THC content produces a powerful and fast-acting effect that is physically relaxing.
It's powerful, it's purple, it's Punch the Cake.
Genetics:
Wedding Cake x Purple Punch