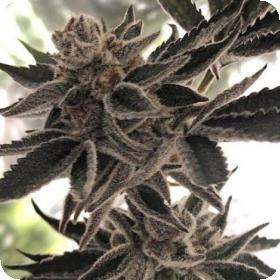 Do-Si-Dos Zkittlez Feminised Seeds
Do-Si-Dos Zkittlez is a cross between Do-Si-Dos and Watermelon Zkittlez. It is a sativa-dominant hybrid plant that produces highly resinous, sweet-tasting buds.
Suitable for both indoor and outdoor cultivation, Do-Si-Dos Zkittlez has a very vigorous vegetative growth phase followed by a rapid expansion during early flowering.
Some judicious pruning is recommended in order to control its height and with widely spaced inter-nodes, even the inner buds receive a lot of light to develop.
The indoor flowering lasts 8-10 weeks and the plants show nice purple colours towards the end of the flowering period.
This strain has a powerful scent, both in the flower and when it's dried. It is therefore a good idea to use carbon philtres where neighbours might be involved.
The taste is rich and creamy with sweet, fruity notes. The effect is stimulating and very physically relaxing in higher quantities.
Genetics:
Do-Si-Dos x Watermelon Zkittlez