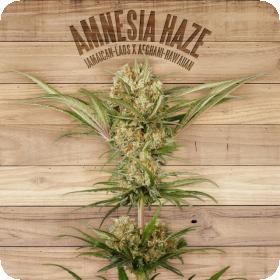 Amnesia Haze Feminised Seeds
Amnesia Haze is a high-yielding poly-hybrid cannabis strain that combines Jamaican, Laos, Afghani and Hawaiian genetics. Amnesia Haze is a living legend amongst the sativas, and The Plant has sought to take it to its maximum expression by growing it in a completely organic way, and incorporating it into its Organics Collection.
It is a plant susceptible to inclement weather and pests, which does not make it advisable for beginners. It is recommended to lower the temperature at the end of its cultivation. Like many Hazes, it greatly stimulates creativity and allows one to drift into a very meditative and powerful state.
Its therapeutic use has proved effective against depression and also for headaches and premenstrual pains.
Genetics:
(Jamaican x Laos) x Afghan x Hawaiian)