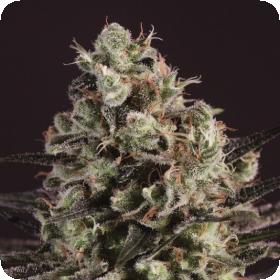 Royal Purple Kush x SCBDX Feminised Seeds
This strain is a fantastic sativa dominant strain that is a mix between two incredible strains, Royal Purple Kush and SCBDX. Royal Purple Kush is a mix between Black Afghani and Bubba Kush.
The flavour is a completely unique belnd of citrus, fruit and pine with a hint of pepper. This strain is extremely vigorous, extremely during the vegetative stage, and produces impressive yields.
This strain is 70% sativa and 30% indica with a high level of CBD, making it a fantastic medicinal strain.
Royal Purple Kush x SCBDX is a feminised strain and will only grow into female plants. Feminised seeds will also need a light cycle in order to flower, usually provided by the sun or grow lights.
Feminised seeds are great for growers who don't plant on breeding their own crops. For these growers the male plants are little more than a nuisance.
They can harm the females during the flowering period and have to be removed, wasting around half of the plants in the crop and half of the money spent on them. Feminised seeds are also usually higher in quality and uniformity.
This strain can be grown indoors, outdoors or in a greenhouse and has a flowering time of 60 – 65 days.
Remember that the cultivation of cannabis seeds is illegal in some countries, please check the laws of your country before attempting to cultivate cannabis seeds.
Genetics:
Royal Purple Kush x SCBDx