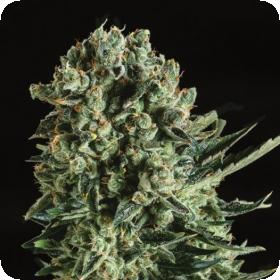 Queen Mother x SCBDX Feminised Seeds
Queen Mother x SCBDX is a high yielding, pure sativa strain that is well known across the world. This strain has an amazing scent and flavour of pine and citrus that perfectly compliments its relaxing effect.
This strain has extremely high levels of CBD, which makes it a perfect medicinal plant. It can grow in a number of environments as it is versatile and adaptable.
This strain is delicious and very enjoyable, especially for those suffering from pain, stress and a number of other ailments.
This strain is feminised and will only grow into female plants. Feminised seeds are ideal for growers who don't plan on breeding their own crops.
For these growers the male plants are a complete nuisance as well as a waste of valuable resources.
Males take up around half of a regular crop and have to be removed during the flowering period, to avoid harming the female plants.
This means that they take up a huge amount of time, space and money that would be much better spent on the female plants. Feminised seeds also tend to be higher in quality and uniformity than regular plants.
This strain has a flowering time of 65 – 75 days and can be grown indoors, outdoors or in a greenhouse.