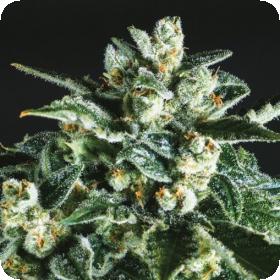 Jack Herer x SCBDX Feminised Seeds
Jack Herer x SCBDX is a fantastic high CBD strain based on Jack Herer by Sensi Seeds. Jack Here is a famous and well-loved strain that was created by crossing Northern Lights #5 and Shiva Skunk.
This strain is even further improved by the terpenes and high CBD production of SCBDx. That means this is a great strain for medicinal use as it doesn't have an over the top mental or physical effect.
It is perfect for treating pain, stress, sleeping issues and a number of other ailments. This strain has a flavour and scent of citrus and pine that will leave the mouth watering. 
This strain is feminised and will only grow into female plants. Feminised seeds are great for growers who don't plan on breeding their own crops. For these growers, the male plants are useless and can actually damage the females during the flowering period.
This means that they have to be removed, which is a massive waste of time, money and energy on the part of the grower. Feminised seeds also tend to be higher in quality and uniformity than regular seeds.
For this reason some breeders also prefer to use feminised seeds, however breeding with just female plants is very difficult. 
This strain has a flowering time of 60 – 70 days and can be grown indoors, outdoors or in a greenhouse. 
Remember that the cultivation of cannabis seeds is illegal in some countries, please check the laws of your country before attempting to cultivate cannabis seeds.