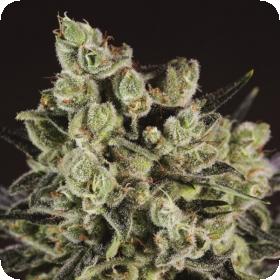 Grapefruit x SCBDX Feminised Seeds
Grapefruit x SCBDX is a sativa dominant strain with slow growth, but it is well worth the wait.  This strain will grow extremely well in a SCROG set up and will produce extremely impressive yields.
This strain is a cross between Grapefruit and the high CBD SCBDx strain. The resulting strain has a delicious flavour of grapefruit and pine, with high yields and high levels of CBD.
This strain is ideal for medicinal uses due to the high CBD and low THC, this means that the effect won't be overly powerful but will provide relief from stress, pain and a range of other issues.
This strain is feminised, which means it will only grow into female plants. Feminised seeds are primarily popular with growers who have no need for the male plants.
The males are only useful for their pollen, so if the grower doesn't plan on breeding their own plants the males are just taking up time, money and space that would be better used on the females.
Feminised seeds also tend to be higher in quality and uniformity than regular plants. For this reason some breeders also prefer to use feminised seeds.
However, feminised pollen is extremely difficult to acquire and this type of breeding should only be attempted by experienced breeders. 
This strain can be grown indoors, outdoors or in a greenhouse and has a flowering time of 55 – 60 days. 
Remember that the cultivation of cannabis seeds is illegal in some countries, please check the laws of your country before attempting to cultivate cannabis seeds.