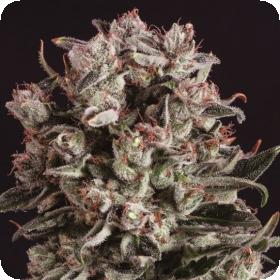 Critical Mass x SCBDX Feminised Seeds
Critical Mass x SCBDx is a fantastic strain which was born of a strain from the Basque region of Spain combined with Critical Bilbao. This strain produces and extremely high yield of sativa heavy buds.
This strain has the physical characteristics of Critical buds added to the amazing aroma of citrus and pine. This strain will grow well in all environments and does not have a particularly long flowering time. This strain is ideal for treating a range of medicinal issues. 
This strain is feminsied, which means it will only grow into female plants. Feminised seeds are great for growers who usually have no need for the male plants. The males can damage the female plants during the flowering process.
This means they have to be removed, which is a huge waste of time, money and energy. Feminised seeds also tend to have a higher rate of quality and uniformity than regular seeds.
This means that some breeders also prefer to use feminised seeds, despite the fact that feminised breeding is extremely difficult. 
This strain can be grown indoors, outdoors or in a greenhouse and has a flowering time of 55 – 60 days. 
Remember that the cultivation of cannabis seeds is illegal in some countries, please check the laws of your country before attempting to cultivate cannabis seeds.