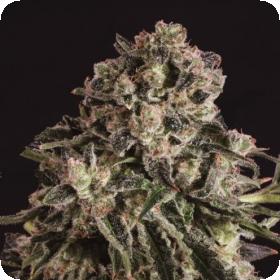 Black Critical x SCBDX Feminised Seeds
Black Critical x SCBDX is a mixture of the famous Critical Bilbao and Black Russian combined with the high CBD SCBDX. The resulting strain is high in CBD, low in THC and sativa dominant.
This strain will also produce impressive yields without having a longer flowering time. This strain has an amazing flavour and scent of citrus and pine with an extremely pleasant high that is ideal for medicinal users.
This strain can be used for a large number of medicinal issues, and will not have too much of a mental effect due to the high CBD.
This strain is feminised and will only grow into female plants. Feminised seeds are predominantly popular with growers, who have no use for the male plants. Since they don't need their pollen, and the males can harm the females during the flowering process, the males have to be removed.
This is a massive waste of time, money and energy that could be much better spent on the female plants. Feminised seeds also tend to be higher in quality and uniformity than regular seeds.
For this reason some breeders also prefer to use them, despite their being far more difficult to breed with.
This strain has a flowering time of 55 - 60 days and can be grown indoors, outdoors or in a greenhouse.
Remember that the cultivation of cannabis seeds is illegal in some countries, please check the laws of your country before attempting to cultivate cannabis seeds.