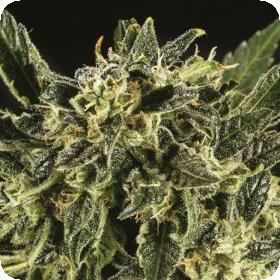 Bama Yao x SCBDX Feminised Seeds
Bama Yao x SCBDX is a combination of a super CBD strain with a marijuana strain from Bama Yao in the Guangxi province. This area is known primarily for the long lives of its population, who eat a lot of hemp seeds.
It is rumoured that these people live to be over 100 years old regularly. This medicinal strain is therefore thought to have a lot of health benefits. It is an especially good strain with which to make tinctures.
This strain is sativa dominant and has a beautiful flavour and scent of pine and pepper.
This strain is feminised and will only grow into female plants. Feminised seeds are primarily popular with growers. They can be used for breeding, however it is extremely difficult and should only be attempted by experienced breeders.
For growers, they make like a lot easier, and can save a lot of time, money and energy. Male plants can harm the females during the flowering period and have to be removed, which means throwing away almost half of the crop.
Feminised seeds also tend to be higher in quality and uniformity.
This strain has a flowering time of 60 - 65 days and can be grown indoors, outdoors or in a greenhouse.
Remember that the cultivation of cannabis seeds is illegal in some countries, please check the laws of your country before attempting to cultivate cannabis seeds.