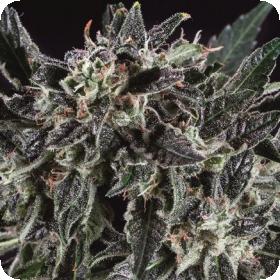 Amnesia Haze x SCBDX Feminised Seeds
Amnesia Haze x SCBDX comes from two different Amnesia Haze strains, one by Soma Seeds and one by First Medical Seeds. The result is an extremely powerful medicinal strain that is not recommended for beginners.
This strain is predominantly sativa and an extremely high level of CBD. This strain needs a little while to grow, but they are definitely worth the wait. It will flower well outdoors but will require a warmer and longer growing season.
The scent is a beautiful mix of pine and citrus with a delicious flavour to match.
This strain is feminised and will only grow into female plants. Most growers prefer feminised seeds because of their increased quality and uniformity. They can also save growers a huge amount of time, money and energy.
Usually, with a regular crop, the split of males and females will be about even. However, the males can harm the females during the flowering period and have to be removed. Some breeders also prefer feminised seeds because of this increased quality.
Unfortunately feminised breeding is very difficult and should only be attempted by experienced breeders.
This strain can be grown indoors, outdoors or in a greenhouse and has a flowering time of 70 - 75 days.
Remember that the cultivation of cannabis seeds is illegal in some countries, please check the laws of your country before attempting to cultivate cannabis seeds.