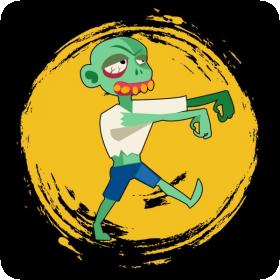 Zombie Haze Feminised Seeds
Zombie Haze is a sativa dominant strain that takes a little longer to flower, but is well worth the wait. This strain is a combination of Amnesia and Ganja Haze with White Widow Original.
If it is going to grow outdoors it prefers a sub-tropical environment and a long growing season with plenty of sun. This strain has extremely high levels of THC with low levels of CBD.
The result being a powerful psycho-active effect with a long-lasting high that will knock plenty of socks off. The flavours and scents are sweet yet floral with hints of spice and pine.
This strain is feminised, which means it will only grow into female plants. Feminised seeds are ideal for growers who don't fancy dealing with the male plants. The males can harm the females during the flowering process, which means they have to be removed.
This is a huge waste of time and money as well as energy. Instead, growers can now purchase twice as many productive female plants for the same cost.
Feminised strains also tend to be higher in quality and uniformity than regular strains. For this reason, some breeders also prefer to use feminised seeds. However, feminised breeding is extremely difficult and should only be attempted by experienced breeders.
This strain can be grown indoors, outdoors or in a greenhouse and has a flowering time of 77 - 84 days.
Remember that the cultivation of cannabis seeds is illegal in some countries, please check the laws of your country before attempting to cultivate cannabis seeds.
Genetics:
Amnesia Ganja Haze X White Widow Original