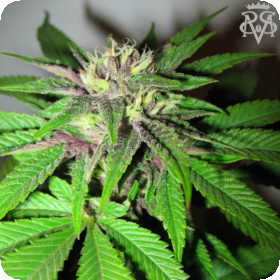 Green Crack Feminised Seeds
SickMeds Green Crack Feminised
This strain was originally marketed under several different names. It has gone by Cush, Green Cush and Lily Coy. If you have any experience with any of these, chances are the buds were harvested from clones.
That's not necessarily a bad thing, but it can make it difficult to find on a regular basis. This is why the breeders at SickMeds set out to create a version that would be not just available in seed form, but also feminised for ease of handling and faster cultivation.
They accomplished this by taking the genetics of an SSSC Skunk #1 and crossing it with a yet unnamed indica native to California. The secret formula creates a seed-based plant that is indistinguishable from its clone counterparts.
This is the ideal strain for the novice grower or for the commercial grower who likes a "throw and go" strain that won't require too much extra care. These seeds practically grow themselves, and they produce exceptionally well for a feminised variety.
Growers can expect yields upwards of 500g per square metre. If you are inclined to do a little trimming, that yield can even be increased.
Another selling point for Green Crack is its fast finish time. You can harvest the buds after about 45-50 days, but push that out to 65 and the increase in quality will make those extra two weeks well worth the patience.
These plants also do not like the cold very much so plan to harvest by end of Summer (late September) when growing in the Northern Hemisphere. Be sure to bring them in long before first frost or yield and quality will be greatly compromised.
That said, cooler weather will bring out a regal purple hue in the leaves. This serves two purposes: it makes the plants look that much more tempting and it lets you know it's time to bring them in.
Genetics:
Green Crack x Green Crack *rev*