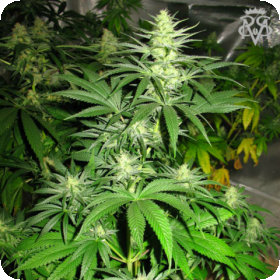 Chupacabra Feminised Seeds
SickMeds Seeds Chupacabra Feminised is an in-house hybrid project developed by SickMeds. Its unique parentage makes for an interesting and eclectic array of flavours and aromas.
Chupacabra's mother is an elite specimen of The Wreck. The father plant is a hardy Strawberry Fire. The plants were chosen specifically for their superior productive capabilities. Each produced hardy buds that were potent and resinous.
This strategy worked out well, and we are sure you will agree with that assessment once you try it! A major selling point - if not it's greatest one - for Chupacabra is its fast flower time.
The plants finish after only 9 weeks but leaving them for 10 will increase the quality considerably. Another advantage is the ease of handling and cultivation.
The original is a simple plant to grow already. Add to it feminised genetics and you get a plant that practically grows itself, making it perfect for a first-time or novice grower. Yields for Chupacabra Feminised hover in to 550 per square metre category.
Be certain to provide ample vertical space when growing indoors as this plant's stature is typical for a predominant sativa. All popular growing methods will work well with them, and they resist mould and fungi well, even in higher humidities.
Harvest Chupacabra no later than mid-October when growing outdoors - these plants do not respond well to frost. The smell of Chupacabra feminised is Kushy and hashy with notes of incense and the flavour mimics these characteristics nicely.
The buds take on a sweet-and-sour citrusy quality mingled with pine. Light it up and the effect is strong but not overwhelming. The user is left productive and clear-headed.
This is a great strain for a little attitude adjustment and also works well for medical applications such as stress management and pain reduction.
Genetics:
Trainwreck IBL BCO x Strawberry Fire