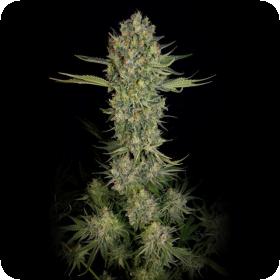 Serious Kush Feminised Seeds
This strain is a much stronger version of the popular OG Kush. Serious Kush is a cross between the original OG Kush and White Russian, well known for its incredible resin production.
This strain will produce massive buds that are extremely dense and covered in a thick, white layer of resin. Serious Kush is well known for its powerful scent, so it should definitely be well ventilated during the flowering period.
The effect is powerful, an intense couch lock that sedates the whole body. This makes it an amazing night time strain for those who suffer from insomnia or chronic pain. Or, when smoked in small doses, it can be perfect for just relaxing at home.
It is also an award winner and took 3rd for indica strains at the IC420 Cup in 2016.
Serious Kush is a feminised strain, meaning that it will only grow into female plants. Feminised seeds were specifically designed for growers who don't plan on breeding their own crops.
If the male pollen isn't needed the male plants are just a waste of time, money and space. They also have to be chucked out in the flowering process to make sure they don't harm the female plants, which is just a waste of energy.
Feminised seeds have often been found to be of a better quality than regular plants with better crop uniformity. This is why some breeders also use them, despite how difficult feminised breeding can be.
This strain should be grown indoors and has a flowering time of 56 – 63 days.
Remember that the cultivation of cannabis seeds is illegal in some countries, please check the laws of your country before attempting to cultivate cannabis seeds.