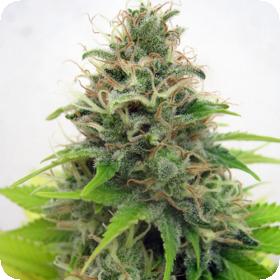 Somango is a wonderful new strain which is the result of combining the multiple hybrid known as Jack Herer with Big Skunk Korean. The resulting strain is one of the fruitiest strains available from Seedsman.
The strain receives its name from its mango aroma and flavour. Somango is a large plant with multiple branches which grows to a slightly taller height.
One of the best ways for this particular strain to be grown is the sea of green method, however using this method means that the branches and height of the plant need to be controlled.
As this plant grows and matures its leaves take on a beautiful purple colour and the buds become completely coated in a sparkling covering of crystals.
The yield of this plant isn't hugely impressive but the buds themselves have some truly sensational qualities. The strain is fragrant and has a unique flavour with an uplifting and mentally stimulating effect perfect for creativity and social interaction.
This Somango strain is feminised which means it will only grow into female plants. This is positive for a number of reasons for both growers and breeders. For growers the main reason for purchasing feminised seeds rather than regular seeds is the lack of males.
Male plants are only used for breeding and are not only useless to a grower but can also be a hindrance.
First of all a grower will spend twice as much money on half the number of female plants. The male plants need to be removed at the start of the flowering process which takes up time and energy.
Feminised plants are also of a higher quality and uniformity than regular seeds. 80% of strains which have been feminised have shown improvement in these areas.
This increased quality makes feminised seeds preferable for breeders as the resulting crops are likely to be far more impressive. However, breeding using female plants only is a little trickier and should only be attempted by experienced breeders.
Female plants are capable of producing a feminised pollen which works in the same way as the male pollen. Another female plant is then fertilised with this pollen and, since all of the genes are female, the seeds will be feminised.
This strain can be grown indoors, outdoors or in a greenhouse making the plant ideal for all types of breeders and growers. It grows to a medium height and has a medium yield.
Genetics:
Super Skunk x Big Skunk x Jack Herer