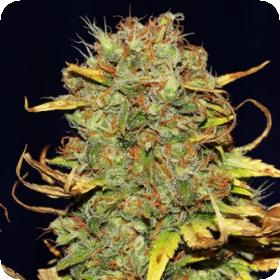 Power Africa x MK Ultra FAST Feminised Seeds
This strain from Seedsman is a potent cross that produces impressive yields. It is easy to grow and very resistant to mould which makes it ideal for beginners, especially those who are planning on growing outside.
It is best known for its massive, extremely dense buds that smell strongly of fresh fruit. The flavour matches the enchanting scent making this strain an absolute treat. The effect is potent and relaxing, which makes it an excellent nighttime strain.
Power Africa x MK Ultra FAST is a feminised strain and will only grow into female plants. Most growers prefer to use feminised plants due to their increased quality and uniformity. They also make growing a lot easier by removing the issue of the male plants.
The males can cause issues during the flowering period, which means they have to be removed. This is a huge waste of time, money and energy on the part of the grower.
Some breeders also prefer to use feminised seeds, however the method by which feminised pollen is extracted is not easy and should be left to experienced breeders. 
This strain has a flowering time of 6 – 7 weeks and can be grown indoors, outdoors or in a greenhouse. 
Remember that the cultivation of cannabis seeds is illegal in some countries, please check the laws of your country before attempting to cultivate cannabis seeds.
Genetics:
Power Africa x MK Ultra x Fast