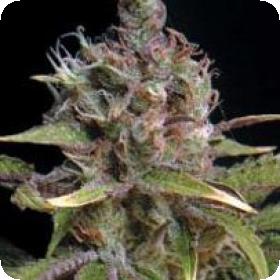 Power Africa Feminised Seeds
When a breeder names a strain as one of their favourites, it has to be good. That is precisely what you get with Power Africa. There is something here for everyone's cannabis taste. It is a mostly sativa hybrid that takes full advantage of its stellar genetics.
It is the result of crossing Skunk/Haze with Durban Poison. The Skunk provides the abundance of buds, Haze provides the power, the Durban Poison provides the lightning-fast finish.
All three parent strains are also known for their potency and hard-hitting, immediate effect. The sativa genetics make it very uplifting and energizing, the indica fills the head and keeps the user relaxed and happy for a good long time.
Power Africa lends itself well to virtually every indoor method but can grow a little tall for SOG and ScrOG setups.
Those specialised grow methods will work if there is adequate vertical space and consistent lighting, but the best results come from nutrient-rich, pH-balanced soil. It is an ideal strain for greenhouses as well.
The Skunk genetics do make these plants a little pungent so make sure you grow room is well-vented and has good air filtration.
Outdoor growers will have good luck with Power Africa in a variety of climates. Wherever Skunk or Haze will grow, so will Power Africa. She is a bit temperamental, though and will generally not produce as well with too many variances in light and temperature.
Prepare to harvest these plants by early October at the latest.
Flowering time for this strain is between 8 and 9 weeks. As with almost any strain, the rule of "the longer, the stronger" applies: let it sit for the full nine weeks and it will be more potent.
These feminised seeds are easy to handle and make a great choice for new or novice growers.
Please remember that the growing of cannabis plants and the cultivation of seeds is illegal in some countries - please check the laws of your country and don't be growing any plants if it is against your country's laws.
Genetics:
Skunk/Haze x Durban Poison