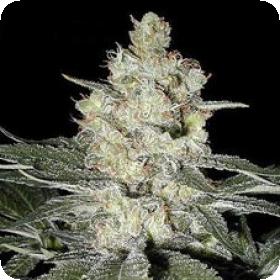 Original Skunk #1 Feminised Seeds
Skunk #1 has a very rich history and has had quite the run in cannabis culture. It is among the earliest known hybrids and was the very first to be made completely stable.
Sacred Seeds brought it into the world way back in the 1970s and set it loose in Holland. It quickly became a staple strain with local growers and breeders. Its high is powerful but uplifting. It is very cerebral in its effect and that effect is very long-lasting.
Skunk #1 comes from three parent strains: Acapulco Gold, Afghani, and Columbian Gold. Something about this recipe just plain works. They bring to the table a potent, delicious and aromatic smoke that is mostly sativa and has a short flowering period.
It also produces far above average for a hybrid of its type.
Original Skunk #1 has gone through so many generations of careful cultivation that, today, it is 100% stable and sought after for new hybridization projects all the time. If the name says "Skunk" it's a good bet these plants' genes are in there somewhere.
Skunk #1 is easy it is to grow and the quality of the buds is incredible (not to mention the amount!). The downside, like with any Skunk strain, is the aroma. There is no question why this strain is called Skunk.
The smell says it all. It can be very overpowering, especially when it is grown indoors. Make sure that your growth space has good air filtration before attempting to grow these seeds inside.
These plants also are anything but discreet. They can be detected over a respectable radius outside as well.
No matter where they are grown, though, these plants will thrive. They respond well to growing using under any indoor setup and a regular light cycle will help keep yields high.
Please remember that the growing of cannabis plants and the cultivation of seeds is illegal in some countries - please check the laws of your country and don't be growing any plants if it is against your country's laws.
Genetics:
Acapulco Gold/Mexican Sativa/ Colombian Gold Sativa