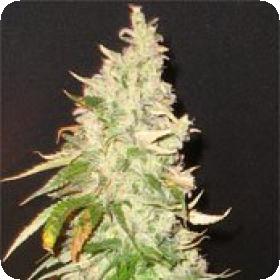 Northern Soul Feminised Seeds
It's called "Northern Soul" and it has plenty. Plenty of spirit, too. In fact, this strain embodies the spirit of both of the iconic strains that make up its genetics: Northern Lights and Skunk #1. It is the perfect balance of indica and sativa and has an almost regal look to it when fully mature.
The plants present with large, deep green leaves and a bud structure that is all Northern Lights. The indica side features prominently in the looks department, keeping the plants small enough to grow in a small space. If that space it tight, don't worry about it. Northern Soul is easy to handle and easy to keep well aerated and lit.
Indoors, Northern Soul is a great choice for SOG and ScrOG setups. It also responds well to ph-balanced soils and hydro setups. The downside is the signature Skunk smell. It is cut a little by the Northern Lights genetics but not by much. Be sure the grow room is well-filtered and do not grow these plants outdoors where discretion is a consideration.
These plants know how to thrive in a number of outdoor environments as well. They naturally resist mould and fungus so even in humid climates they will perform impressively. The flower period is about average at 9-10 weeks. The extra week will make for stinkier, less flavourful plants but the potency will go up. It's all about preference. Outdoor growers should make sure these plants are harvested by mid-October. One thing they don't like is frigid weather and frost. Make sure they are cut down before frost damages the buds.
These feminised seeds are stable and reliable. They are also easy to handle, germinate at nearly 100% and provide the opportunity for new growers to really hone their skills while they learn.
Please remember that the growing of cannabis plants and the cultivation of seeds is illegal in some countries - please check the laws of your country and don't be growing any plants if it is against your country's laws.
Genetics:
Skunk #1 x Northern Lights