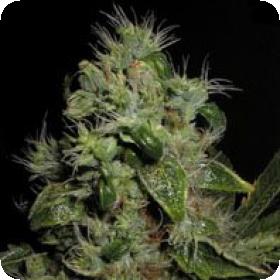 Mazari is the product of some great genetics. It is a cross between Northern Afghani and the ever-popular Skunk #1. This is a variety so in-demand it has been produced by a number of breeders and seed banks.
So how does one know if he or she is getting good quality? All Mazari seeds are exceptionally stable and dependable. Seedsman takes pride in the seeds they distribute and quality is top priority.
These seeds are sure to impress on a number of levels. For starters, the yields are great. The Skunk genetics go a long way to making these plants produce in abundance.
Couple the great number of delicious buds with their Afghani ancestry and the worth of these plants becomes even clearer: sticky, resinous buds with a smooth, rich, hashy flavour and a smell that takes all the best form both parent strains.
The plants are short and squat with good side-branching, but they aren't stretchy. They form a compact Christmas tree shape that makes them real space savers in the grow room.
They are also the ideal size for a Sea of Green or screen of green setup or as the incognito addition to any garden. Balcony and closet growers will love working with these seeds.
Outdoor growers should plan final harvest by the beginning of November. Mazari can handle some cold nights but don't let it be exposed to frost. The Skunk genetics also help with fast flowering. These plants finish in just 8-9 weeks on average.
Best of all, these Mazari seeds are feminised so even novice growers will feel right at home working with them and will enjoy success the first time out.
These are great plants for learning and experimenting, and they reward any degree of effort with enough great end product to last a good while.
Please remember that the growing of cannabis plants and the cultivation of seeds is illegal in some countries - please check the laws of your country and don't be growing any plants if it is against your country's laws.