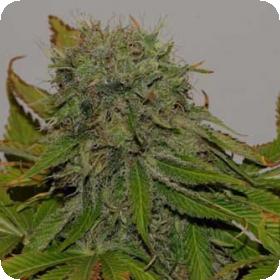 Mama Mia shares some of its best traits with Mazari, another iconic strain that embodies the genetics of two great strains: Skunk #1 and Mazari Sharif. Mama Mia has the advantage of being crossed not with Skunk #1, but with the faster flowering Early Skunk.
It finishes earlier than Mazari in any growing environment and the quality is virtually identical. Fully mature plants take on a cone or Christmas tree-like shape that is nicely compact with little to no excessive lateral branching.
Mazari is a much sought-after strain and is distributed by multiple breeders and seed banks. Its high quality and high demand keep it making the rounds year after year.
It has been the subject of numerous hybridization projects and lends itself well to this coupling with Early Skunk.
Mama Mia does differ slightly from Mazari in its tendency to showcase its indica tendencies with predominance. These tendencies present in appearance, yield and effect.
The leaves are a dark, rich green and the plants are broad, but squat, making them ideal for growing in Sea of Green and Screen of Green setups, among many others.
Outdoor growers should be prepared to give these plants the longest days of the year to flower. When summer ends, Mama is ready for harvest. The plants flower in just about 8 weeks.
Giving them 9 weeks will decrease the flavour but increase the effect.
Best of all, Mama Mia Feminised is a great strain for first-time or novice growers. Feminised seeds are generally easy to handle by definition, and they grow and flourish with very little additional fuss.
These plants, in particular, offer exceptional yields with a minimum of effort and an impressive return on investment. Experienced growers will also appreciate the ability to increase yield and quality with a little bit of care and attention.
Please remember that the growing of cannabis plants and the cultivation of seeds is illegal in some countries - please check the laws of your country and don't be growing any plants if it is against your country's laws.
Genetics:
Early Skunk x Mazari Sharif