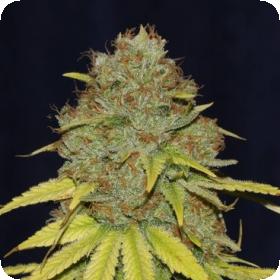 Jack Herer FAST Feminised Seeds
As unlikely as it may seem, this strain is actually an improvement on the original Jack Herer strain. It is a good deal faster than the original and has already won a bunch of awards.
All the legendary potency and flavour of Jack Herer has remained intact. This strain was named in honour of the author of the seminal book The Emperor Wears No Clothes.
It still lives up to his memory with its high levels of THC and extremely resinous and sweet-smelling buds.
Jack Herer is a feminised strain and will only grow into female plants. This means that growers no longer have to deal with the very frustrating male plants that take up half of a regular crop.
They can also harm the female plants during the flowering period, which means they have to be removed.
This is a huge waste of time and money that would be much better used on female plants. Feminised plants also tend to be higher in quality and uniformity than regular plants, which makes them popular amongst breeders also.
However, only experienced breeders should attempt to create crops using only female plants.
This strain has a flowering time of just 6 - 7 weeks and can be grown indoors, outdoors or in a greenhouse.
Remember that the cultivation of cannabis seeds is illegal in some countries, please check the laws of your country before attempting to cultivate cannabis seeds.