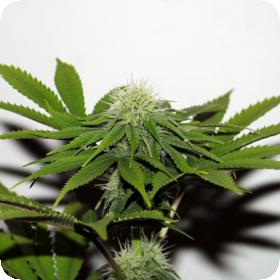 Hash Plant CBD Feminised Seeds
CBD Hash Plant is an indica dominant medicinal strain by Seedsman. This strain was created with CBD Crew and has a 1:1 CBD to THC ratio. Each of these sit at around 6%, meaning that it is effective for a number of issues without causing a loss of lucidity.
This strain is ideal for those who are suffering from arthritis, fibromyalgia, insomnia, muscle spasms, inflammation, pain, nausea, Tourette's, spinal cord injuries, and is good for those going through cancer treatments.
This strain has a short flowering time and an extremely relaxing effect. The buds are coated in a thick layer of resin and are extremely dense with a delightfully fruity flavour and scent. 
This strain is feminised, meaning it will only grow into female plants. Feminised seeds are ideal for growers who don't plan on breeding their own crops. For these growers, the male plants can be a huge nuisance as well as a waste of time, money and energy.
They can harm the females during the flowering period which means they have to be removed. If they are not then needed for their pollen they are simply thrown away, wasting around half of the money spent on the seeds.
Feminised seeds also tend to be higher in quality and uniformity. 
This strain can be grown indoors or outdoors and has a flowering time of just 7 weeks. 
Remember that the cultivation of cannabis seeds is illegal in some countries, please check the laws of your country before attempting to cultivate cannabis seeds.