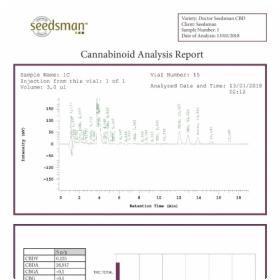 Doctor Seedsman CBD 30:1 Feminised Seeds
Seedsman is proud to present its new medicinal cannabis strain Doctor Seedsman CBD 30:1, a hybrid cannabis strain capable of producing up to 20% CBD (Cannabidiol) and less than 1% THC to give a CBD:THC ratio of 30:1!
Years investigating medicinal/therapeutic cannabis strains have resulted in this supremely rich CBD plant. For patients who prefer to benefit from healing properties without the high associated with psychoactive strains now have a first class choice.