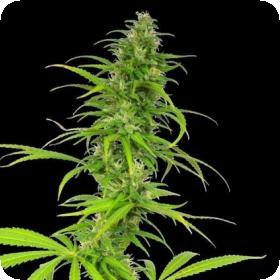 This version of Cheese by Seedsman is a powerful, earthy and strong bodies plant. Cheese has been around for a very long time and has always been a favourite in the cannabis community.
It was first created in Britain in the 80s and is widely known for its wonderfully cerebral effect as well as its many awards. This version of Cheese won 1st prize in the 2006 HTCC, the Indica cup.
It also won 1st prize for the Best Outdoor Strain in the Spannabis Cannabis Champions Cup 2013. Cheese is an Indica dominant hybrid which is descended from a Skunk #1 phenotype.
This strain gives a blissful sense of piece of mind as well as a happy and uplifting effect.
Cheese is recommended to those suffering from stress, anxiety, pain, lack of appetite and insomnia. The THC content of this strain is high and powerful like many other Cheese strains.
Like many of Seedsman's strains this version of Cheese is feminised. Feminised seeds will only grow into female plants which has a number of uses.
Firstly it means that growers who do not plan on breeding their own crops can save time and money which would otherwise be wasted on male plants.
Male plants, if not being used for breeding, must be disposed of at the start of the flowering process in case they damage the females.
This means that around half of the crop is wasted which also means that half of the money spent by the grower is wasted. Feminised seeds have also been proven to be of a higher level of uniformity and quality.
80% of strains which have been feminised have shown marked improvement in both areas. Breeders can also use feminised seeds to breed feminised crops. This form of breeding is far more difficult than regular breeding and should only be attempted by experienced breeders.
Female plants are capable, if properly treated, of producing a feminised pollen. This pollen can be used to fertilise another female plant and the resulting seeds will be feminised.
This Cheese strain can be grown indoors, outdoors or in a greenhouse making it ideal for all types of grower and breeder. It has a flowering time of 8 - 9 weeks and, if grown outside, it should be harvested in mid October.