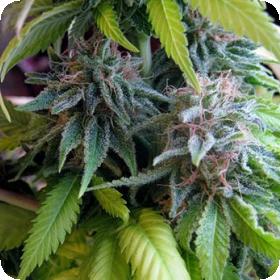 Candy Cream Feminised Seeds
Candy Cream is typical for an indica strain, it produces thick buds and has a lot of side branches. It is a cross of Blue Black and Maple Leaf Indica along with White Rhino. It is indica dominant and will grow well in a variety of environments.
The flavour is what this strain is most popular for, a delicious blend of caramel and earth. The effect is powerful and heavy with a beautifully soft relaxation that spreads through the mind and the body.
This makes it an excellent medicinal strain for those who suffer from insomnia and trouble sleeping due to pain.
This strain is feminised, which means it will only grow into female plants. It also means that it will require a light cycle in order to flower. Feminised seeds are perfect for growers who don't plan on breeding their own crops.
For these growers, the male plants are a huge waste of time, money and other valuable resources that would be better spent on the female plants. Feminised seeds also tend to be higher in quality and uniformity than regular plants.
This means that they are sometimes used by breeders, although feminised breeding is very tricky and should not be attempted by amateur breeders.
This strain can be grown indoors, outdoors or in a greenhouse and should be harvested in October.
Remember that the cultivation of cannabis seeds is illegal in some countries, please check the laws of your country before attempting to cultivate cannabis seeds.
Genetics:
Blue Black x Maple Leaf Indica x White Rhino