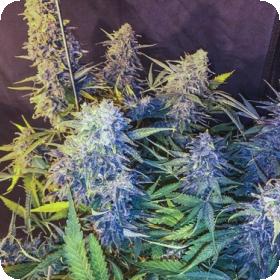 C99 x Blueberry FAST Feminised Seeds
C99 x Blueberry Fast is another amazing fast flowering strain from Seedsman. This strain is a combination, as one might assume, of Cinderella 99 and Blueberry along with a fast parent plant.
This strain has a high proportion of Thai sativa, giving it a delicious Asian flavour that comes through strongly after curing. This strain will go through a fair bit of stretch, so will need lots of space to flourish.
The levels of THC are high, as is the resin production, so this strain is definitely not for the faint of heart. This strain is super easy to trim due to its high bud to leaf ratio.
This strain is feminised, which means it will grow exclusively female plants. Feminised seeds were created to make life easier for growers, who often have no need for the male plants.
Usually the males would take up around half of a regular crop and can damage the females during the flowering period. They need to be removed and, if they are not needed for their pollen, are disposed of.
This is a huge waste of money and energy on the part of the grower. Feminised seeds also tend to be higher in quality and uniformity, which is why some breeders also prefer to use them. However, feminised breeding is only recommended for experienced breeders.
This strain has a flowering time of 6 - 7 weeks and can be grown indoors or outdoors.
Remember that the cultivation of cannabis seeds is illegal in some countries, please check the laws of your country before attempting to cultivate cannabis seeds.
Genetics:
Cinderella 99 x Blueberry x Fast