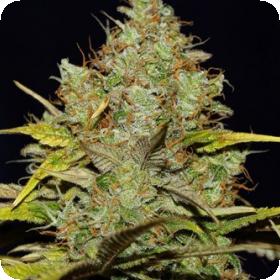 Big Nugs FAST Feminised Seeds
Big Nugs Fast by Seedsman does exactly what it says on the tin; it produces big nugs, and fast. This strain is a combination of Critical Mass/ Big Bud and a super-fast male plant.
The buds grown on this plant are so heavy that the branches will definitely need some support during flowering, or they might snap. This strain is extremely versatile and produces high levels of THC.
The flavour is delightfully fruity, and this along with the amazing yields makes it a great strain for commercial growers.
This strain is feminised and will only grow into female plants. Feminised seeds are great for most growers, who have no use for the male plants. A male's only use is his pollen, which is needed for breeding.
If the grower has no plans to breed their own crops the males are not only useless but a total waste of valuable resources. They would usually take up around half of a regular crop and will harm the females during the flowering process.
This means they have to be removed before they can do any damage. Feminised seeds are also popular for their increased quality and uniformity.
This strain will flower in an incredible 6 - 7 weeks and can be grown indoors, outdoors or in a greenhouse.
Remember that the cultivation of cannabis seeds is illegal in some countries, please check the laws of your country before attempting to cultivate cannabis seeds.
Genetics:
Afghani x Skunk (Critical Mass / Big Bud) x Fast