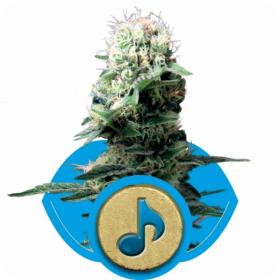 Dance World Feminised Seeds
Royal Queen Seeds Dance World feminised seeds are a genetic mix of Dance Hall 20 and Juanita la Lagrimosa, as the latter is known for its medical qualities it should come as no surprise that this strain has great medicinal properties with a CBD content of 11%.
In spite of it being 75% Sativa, it grows like an Indica which means that it will reach quite a small height of less than 1 m indoors and just over that outdoors.
As well as this as like other Indicas it has a short flowering time of only 8 weeks and will produce a yield of 475-525 gr m2 indoors or 400-450 g per plant outdoors.
As well as having medical qualities Dance World Seeds have the added benefit of being feminised which means that they will save a grower time, space, and money.
The reason for this is that males generally serve no useful purpose as it is the females which are used for cultivation but with regular seeds roughly 50% of the pack will be males.
With feminised seeds however there is an almost 100% chance that all of the seeds will be female, meaning that a grower does not have to spend twice the amount of money buying twice the number of seeds just to make sure there are enough females.
If a grower wishes to breed their own crop however, this is when the males will come into use, as it is the males which produce the pollen necessary for reproduction.
On the other hand it is possible, for the more experienced growers, to manipulate the females into producing this pollen, meaning that a person can choose the best females and only use them to reproduce.
This means that the future crop will have a greater level of genetic uniformity than if both males and females had been used.
Please remember that the growing of cannabis plants and the cultivation of seeds is illegal in some countries - please check the laws of your country and don't be growing any plants if it is against your country's laws.
Genetics:
Dancehall 20 (Mexican x Afghani) x Juanita la Lagrimosa