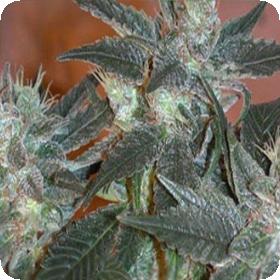 L.A. Ultra Feminised Seeds
L.A. Ultra gets its genetics from crossing the famed L.A. Confidential with the equally popular MK Ultra. It is very heavily endowed with some of the most desirable indica qualities, not the least of which being its overall size.
These plants are squat and compact making them an indoor grower dream come true. Even better, these plants naturally resist most common moulds, fungus and pests which makes them equally good outdoor growers.
They don't need an over-abundance of care or maintenance, and they are adaptable to a variety of climates.
Indoor growers consistently report that L.A. Ultra responds particularly well to organic, pH-balanced soil. Their size makes them ideal candidates for growing in closets or on balconies and also lends well to the use of methods like Sea of Green and Screen of Green.
One can grow a good lot of these plants in a small space and each one produces a yield that is standard for its size: about 300 g per square metre.
Look for these plants to start flowering at about 45 days. At this point, a 12/12 light cycle will enhance production and quality in the buds. Outdoors, warm, long days and plenty of fresh air will have the same effect.
They take a bit longer to finish than the average indica, but they have a distinct way of letting the grower know they are getting close to harvest time. Look for L.A. Ultra to take on a very sharp, almost astringent aroma.
That coupled with it densely-resinous trichomes are a good indication that it is almost time to clip and cure.
The effect delivered by this strain is powerful and heavy. Those who prefer a thick, couch-locked stone will feel right at home with L.A. Ultra. Don't light this one up if you have any immediate plans. Be prepared to ease back and just enjoy.
Please remember that the growing of cannabis plants and the cultivation of seeds is illegal in some countries - please check the laws of your country and don't be growing any plants if it is against your country's laws.