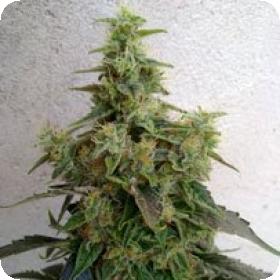 Dieseltonic Feminised Seeds
Dieseltonic produces at least two phenotypes, one of which presents with a perfect balance of CBD and THC. The plants that do are ideal for medical and healing applications.
About half of the plants produced by these seeds will present as that pheno. When one is identified, it can be cloned to maintain its genetics and eliminate any guesswork.
This strain is a cross between the original Cannatonic and NYC Diesel. With those kinds of genetics working for it, the benefits beyond just medical applications is obvious to anyone familiar with the parent strains.
All known phenos have the same ability to repel pests and resist mildew, mould and fungus, so growing outdoors in humid environments is safe and low-maintenance.
The aroma produced by the buds has all the best traits of NYC Diesel and Cannatonic and the distinct characteristics of each make for a very interesting smell that is not overpowering but definitely noticeable.
The flavour is a bit oily but tangy and citrusy as well. In other words, it mimics the smell almost perfectly. The sativa genetics take the spotlight in overall effect.
Dieseltonic leaves the user feeling energised and invigorated, but the indica genes do provide a distinct headiness that only intensifies its effect.
These plants finish after just 8-9 weeks of flowering time. They grow well indoors or out but will produce better indoors under more controlled conditions.
They can produce 400-500 g per square metre of quality product when grown using indoor methods like SOG and ScrOG. Outdoors, that number dips slightly but the plants' overall resiliency keeps the numbers relatively high.
A little routine pruning and taking care to provide a properly-balanced, nutrient-rich soil will narrow the margin even further. Be sure not to expose these plants to frost but don't worry about a few cooler nights. Dieseltonic can handle it.