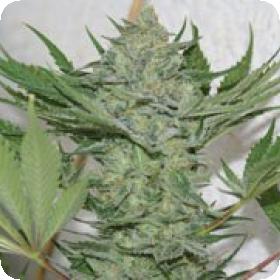 Critical Haze Feminised Seeds
It shouldn't be hard to decipher who this strain's parents are. Just the name "Critical Haze" alone evokes thoughts of two iconic strains that have stellar reputations in their own right.
The exact parentage is a high-yielding Critical Mass crossed with an exceptional Amnesia Haze specimen that was specifically chosen for this particular hybridization project.
The buds are dense and develop a thick coating of delicious, shimmering resin. The plants are huge producers with a number of distinct characteristics that are sure to make this a preferred strain in any grower's cultivation projects.
This is a very powerful strain - not for beginners or lightweights. The THC content of Critical Haze is super high. The flavour is every bit as powerful as well - spicy, hashy and dank.
It is everything that the child of two iconic strains should be. Even better, the yields are out of this world, too. Indoors, growers can consistently expect yields of 500 g per square metre or better.
Specialised growing methods and regular pruning and maintenance can push those numbers even higher. They will make you wait - about 11 weeks on average - but that wait will be worth it. A little patience will really pay off with Critical Haze.
Outdoor growers will see lower yields depending on the climate. Cooler climates can see yields drop by half, but in areas with long, warm growing seasons, yields improve considerably and multiple harvests are possible with proper care.
Final harvest is early November in the Northern Hemisphere so cooler weather is not a major problem, but frost could be a deal-breaker. Expecting an early winter? Set up a grow room inside. These seeds will thank you.
There is no unpleasant odour so indoor growers should be able to live harmoniously with their plants.
Please remember that the growing of cannabis plants and the cultivation of seeds is illegal in some countries - please check the laws of your country and don't be growing any plants if it is against your country's laws.
Genetics:
Amnesia Haze x Critical Mass