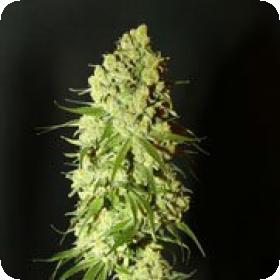 Cannatonic Feminised Seeds
Cannatonic Feminised represents the best of its parent plants: an Reina Madre (F1) and a NY Diesel father.
It has the look of a classic indica, has the smell of a high-quality sativa and has a wonderfully balanced effect with a 1:1 THC to CBD ratio.
Any medical marijuana user will tell you that while there are good strains out there for medical uses that bear all manner of description and cater to every personal taste, the best ones are those with balanced THC and CBD.
Even the name hints at this strain's medicinal value: it is the truest definition of a "cannabis tonic" and has virtually endless health-related applications.
Add to all of this the impressive yields these plants provide and the investment in these seeds begins looking even more appealing. One plant is capable of producing as much as 500 g per square metre when grown indoors.
Hydroponics and specialised methods like Sea of Green promote better yields than soil, but the numbers do not fluctuate much. The greatest departure comes with the difference between growing indoors and out.
Outdoors, the yield does drop a bit but only by about 20% on average. Longer growing seasons can also result in multiple harvests so, depending on where the grower lives, the differences in yields are likely to be very small across platforms.
Flowering time for Cannatonic is short - 7 to 8 weeks maximum, and just like with most any other strain, allowing extra time to mature will enhance the overall quality of the end product.
After a few weeks of curing, the buds are ready to provide months of therapy or enjoyment (after all, it's not ALL about medicinal applications). Those users who prefer a balanced effect that is not overpowering are sure to appreciate what Cannatonic delivers.
Please remember that the growing of cannabis plants and the cultivation of seeds is illegal in some countries - please check the laws of your country and don't be growing any plants if it is against your country's laws.
Genetics:
Reina Madre x New York City Diesel