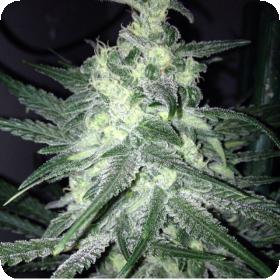 Moonshine Haze x Ghost Train Haze #1 Feminised Seeds
Moonshine Haze x Ghost Train Haze #1 is a fantastic cross from Rare Dankness that combines two award-winning strains.
Moonshine Haze won the 2011 High Times Cannabis Cup and Ghost Train Haze has won a number of awards, as well as being named one of the strongest strains available by High Times.
Basically what we are looking at here is a seriously potent, seriously high quality strain that produces high yields of super resinous buds. The cross is sativa dominant yet has a surprisingly fast flowering time. 
This strain is feminised, which means that it will only grow into female plants. They will also require a light cycle in order to flower. Feminised seeds are ideal for growers who have no use for the male plants.
For these growers the males take up valuable time, space and money that would be far better spent on the females. Feminised plants also tend to be higher in quality and uniformity than regular plants.
For this reason they are even occasionally used by breeders, despite the increased difficulty of feminised breeding. 
This strain will need 10 – 11 weeks to flower and can be grown indoors or outdoors. 
Remember that the cultivation of cannabis seeds is illegal in some countries, please check the laws of your country before attempting to cultivate cannabis seeds.
Genetics:
Moonshine Haze x Ghost Train Haze #1