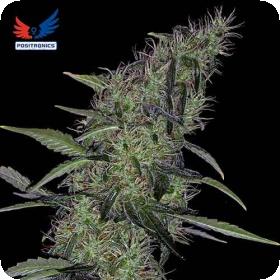 Somango #47 Feminised Seeds
Somango #47 is a hybrid cross between two top-quality strains: Somango and Critical #47.
The Somango provides a unique flavour and aroma profile, the Critical #47 provides out-of-this-world yields and some other great quality-enhancing genetics.
This nicely-balanced indica/sativa has been nicknamed in numerous forums as "The Beast." From seed to harvest, this one is certain to impress and amaze with the complexity of its development.
The plants grow very bushy and round, becoming very voluminous very early on in its vegetative stage. Distance between internodes is very short and the lateral branches are very strong.
They need to be if they're going to hold up the sheer number of buds that grow on them!
The aroma of Somango #47 is elegant and very pleasing to the nose, having all the qualities of a well-balanced hybrid: fruity goodness with earthy undertones.
The effect is strong, euphoric and long-lasting, filling the head while also providing a signature sativa full-body high.
THC is moderate to high. CBD is low at just 0.2% average.
The plant size caters to growing both indoors and outdoors. Indoor growers will have success using any growing method.
They grow well in soil or hydro and require only basic nutrients. It's basically pointless trying to keep these plants under control with pruning so ample floor space will be necessary to allow them to stretch.
Outdoor growers will have an even easier time of things letting these plants interact with nature and do their thing. Indoor plants yield about 600 g per plant. That number skyrockets to 800 outdoors on average, and they also flower early.
Harvest can start late September, after a 65-68 day flower period. This is a great strain for first-timers and those who just want a good weed they can throw and grow.