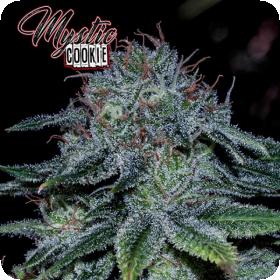 Mystic Cookie Feminised Seeds
From the United States came a fantastic original Clone Girl Scout Cookie, after a long job of selection, we got a very strong and stable strain, so we did not hesitate to cross it with an equally strong variety.
We talked about our beloved GMK by Gordo Master, a Kush which did not leave anyone indifferent, and which is an authentic winner.
The result is a variety that will make you feel a new mental and bodily sensation. A plant of medium size, strong and robust. Its incredible clusters are filled with compact respectable buds with incredible mystical potential.
Its effect is very pleasant and lasting, but strong, although yes, without anything that can erase a smile on your face.