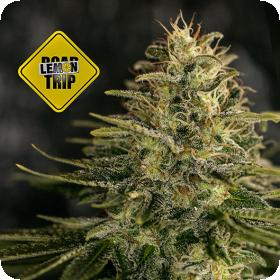 Lemon Trip Feminised Seeds
After many years of breeding different strains with citrus nuances we finally got G10, a strain only available in Latin America. Due to its great acceptance and fantastic results, we decided to keep working in its development, looking for a strain with a remarkable citrus flavour and aroma.
That's how we got our new sativa strain Lemon Trip, a pleasure for all the senses and specially profitable for the citrus strains lovers.
Powerful and thick plant with a medium height, will grow the more space is given, the bigger. It has many branches but not so many leaves. Its flowers are of a good size, shiny and frosty, full of citrus trichomes ready to squeeze in about 70 days.
It won't need excessive cares from the grower, but a help with its weight will require some tutoring sticks in the end of its life.