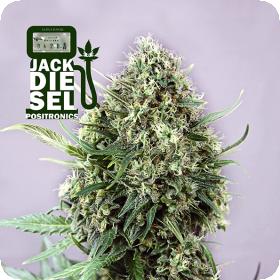 Jack Diesel Feminised Seeds
Jack Diesel is a very strong, vigorous plant with short distances between internodes and a huge central cola. It seems to go through a sort of metamorphosis as it matures, taking on the look of a classic sativa more than it flowers.
Toward the end of the flower period its lateral branches really take the opportunity to stretch and numerous smaller flower sites pop up all over its branches.
The buds are very tight and hard and become covered with delicious crystalline resin when nearing full maturity. The aroma is much like eucalyptus mixed with sandalwood and cedar and an undercurrent of floral and sour citrus notes.
Anyone familiar with Diesel genetics knows what to expect of the aroma profile. The effect is very trippy and psychedelic, not to mention extremely potent THC levels who could expect anything but? CBD's content is very low at only about 0.1 percent.
Even though these plants are mostly sativa, they manage to keep from growing too tall for the grow room. Some might get a little taller than others but the average grow room with a ceiling high enough to stand upright should be adequate for housing these plants.
They respond to any grow method, require only basic nutrients, and vegetate and flower under normal light cycles.
Outdoor plants will stretch even more and can also out-perform indoor plants in quality and yields. The average plant is capable of yielding at least 600 g of great quality buds but indoor plants usually produce a bit less than that.
The quality, however, is the same regardless of the growing environment and medium. Plan to harvest outdoor plants beginning mid-October. Harvest should be completed before there is any threat of widespread frost.
Genetics:
Jack Herer x New York Diesel